Because you just might get it". That phrase comes to mind when thinking about Carmelo Anthony's situation in New York with the Knicks. Not so long ago, back in 2011, the man wasn't happy in his situation in Denver with the Nuggets and wanted to out. The grass isn't always greener...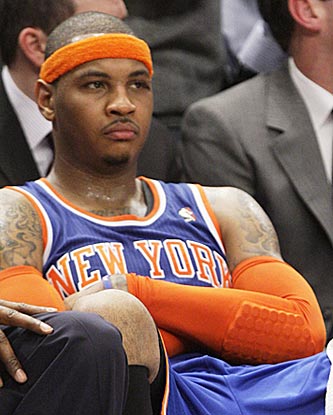 We have seem this face too many
times by Carmelo this season.
The situation with the Knicks this season is ridiculous... Simply ridiculous! They won't make the playoffs in the Eastern Conference this season where 3 teams with a below .500 team will playing for the trophy. As of today they are in 11th place with no signs of turning things around. The team is a collection of overhyped, overpaid 'individuals' who enjoy the NBA life more than they enjoy playing in NBA games. If you look at the collection of players, other than Carmelo Anthony, you can easily understand why they are so bad:
J.R. Smith - Still has't grown up. Needs a reality check...
Raymond Felton - Doesn't have the work ethic or discipline to lead a team
Amare Stoudemire - Oft-injury small forward in a power forwards body
Tyson Chandler - Injury prone limited player who is in the wrong place at the wrong time
Iman Shumpert - Only reason we know his name is because he is in NY (remember Landry Fields)
If you look at these players and what they provide to a franchise, winning would not come to mind. The only guy that has earn anything in the NBA is Tyson Chandler. A role player on the Dallas Mavericks championship team who beat the Miami Heat in the 2011 NBA finals.
New York should be ashamed of the Knicks and the entire franchise, top to bottom. The product they put on the floor every night in any other city would produce half filled arenas along with a fired coach and GM. Instead, the Garden in filled every night and they are talked about on ESPN everyday like they do the Dallas Cowboys. It's pitiful!!
Carmelo, GET OUT WHILE YOU CAN! Regardless of what you believe is the right thing; staying in NY and winning a championship for 'the city, it's not gonna happen. The Knicks don't have the right leadership in the locker room, the front office or in the ownership chair to win in the NBA. They haven't for 40 years!! Do yourself a favor and save your career while you still can...LEAVE New York!
If you want to have a chance to win a championship in the NBA, New York isn't the place. Your future is elsewhere...